We strive to be the partner of choice to help create environments where people can do their best work.
Organizations with high engagement attract and retain top performers. High job engagement happens when work is challenging, employees are properly supported and they are recognized for making progress. Engagement fuels efficiency, innovation, and growth. We offer an Engagement Scorecard that will give you actionable insights. Read more.

Communication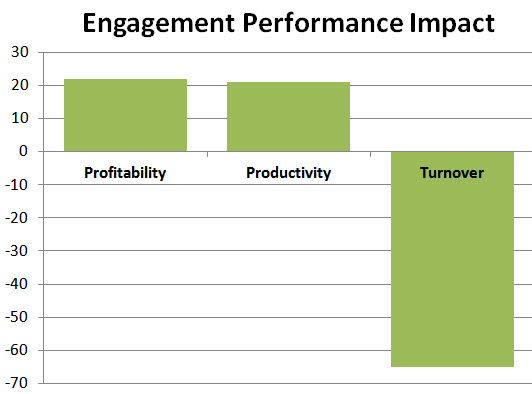 Good communication skills are fundamental to executive success and engagement. Do people hear you and do you hear them? Do they get the information they need? Can they connect their jobs to the organization's goals? Do they trust what they hear? You can assess individual leaders, teams, and / or functional area communications. Start now.
Good communication is essential to engagement and boosts results. Companies that get it right outperform peers and manage change more effectively. We deliver individualized skills scorecards and 1-1 communication coaching for current leaders. We also offer group programs for developing leaders' communications skills.

Team Conversations
We're all members of a team. Many of us more than one team. Some teams are more effective and often it is because they communicate more effectively. They have better conversations.
What makes for a better conversation? It has six attributes: people are comfortable expressing and challenging opinions; they listen to understand others' views; they pay attention to the productive 'so what?'; they place merit above power or politics; they are fully present/attentive; the conversation is well structured and adequately flexible.

We can help you get a clear picture of the effectiveness of a team approach to conversation. Team members will complete a diagnostic online and a Truebridge consultant will analyze the data and debrief the team. Click here for a sample report.
Leadership Commitment Creates Engagement
Building engagement is simple for authentic leaders. It's also rare. We help committed leaders build engaged teams. The payoff is outstanding sustainable performance. The formula for engagement is trust, transparency, facilitation and focus.
Teamwork builds trust and trust builds speed.
Russel Honoré

Team Action Develops Engagement
Engaged teams produce results. We provide a structured process that enables teams to take action and achieve objectives. Our process enables them to define where progress needs to be made and how to make it. This builds engagement as it improves performance. It puts everyone on the same page. It helps build individual commitment and team success.

T4 MAP™ for Team Performance
Our unique T4 MAP™ (Measure, Align, Perform) approach to fueling performance improvement grows team member engagement, and enables teams to align on goals and own the results. Teams have identified opportunities to speed product development, reduce overhead, improve customer support, increase retention and more. All were possible without capital expenditure.

Teams map out performance improvement opportunities, align around selected goals and measure performance progress. When people make perceivable progress, it boosts productivity. A fully detailed study of the successful implementation of the T4 MAP™ was published in January 2015 in peer-reviewed Performance Improvement Quarterly.
Our process is easy to launch and immediately empowering. Read more. Inquire.